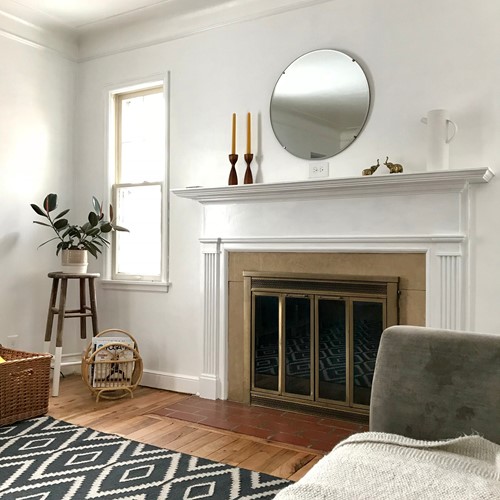 Photo by kelsey roenau on Unsplash

As the focal point of your living space, your fireplace needs to look its best or it could bring down the rest of your décor. But how can you restore the look and feel of that key design element without breaking the bank? There are actually many different ways to rekindle your old fireplace and none of them have to cost a ton of money or effort. Here's a look at several low-cost, minimal effort ways to beautify the design of your fireplace.
Revise the Mantlepiece
If your fireplace does not have a mantle, adding one is a quick and easy way to transform its look. Hardware stores carry inexpensive mantle kits that are simple to install and still look like a million bucks. Just follow the included directions and you will restore your fireplace design in an instant. If you want to go the extra mile, slap on a coat of paint to jazz up the piece even more.
Reface the Exterior Surface
By refacing the exterior of your fireplace, you can make it look all new without spending a lot of money. All you have to do is add interlocking tiles that mimic the look of real stone over the existing exterior surface. These tiles not only look great, but their lightweight construction and simple installation techniques will not damage the underlying materials. If you ever want to remove them, you can do so without worry about what you will find underneath.
Add Glass Doors
Although open fireplaces look great on their own, installing glass doors makes the whole design look a little more sophisticated. You can find doors in many different designs, giving you the ability to match them to your existing décor. Their installation only requires basic tools and a little bit of know-how, which allows you to complete this project in one afternoon.
Restore the Bricks & Mortar
If you want to leave the rest of the fireplace as-is, but still want it to look a little nicer, consider repairing the brick along the inside. The brick and mortar joints inside the fireplace can start to look a little rundown after years of exposure to open flames, after all.
To restore its appearance, start by cleaning the brick with a stiff bristle brush and a vinegar-water solution. Rinse with warm water, and then focus on scraping the loose mortar with a scoring tool. Then, mix up new mortar and spray the joints with a little bit of plain water. Pack the joints with your mortar mixture and smooth out to complete this restoration project.
By completing any, or all, of these improvements, you can rekindle your fireplace design, elevating the beauty of this key focal point. Your visitors will delight in the changes and reward all your hard work with their praise and accolades. Even more rewarding, perhaps, is the confidence you will gain from completing your home improvement projects without breaking the bank.